If your wide nose bothers you, rhinoplasty is the best option to narrow your nose. Since the nose is the most prominent features of the face, it is very important how it looks like. Your nose may look wider due to lack of nasal bridge height and it can cause by different reasons such as genetics, prior nose surgery and in most cases because of ethnic groups. The wide nose usually tends to be flat and don't have a great deal of projection from the face. On the other hand, people with wide nose may suffer from some medical issue such as sleep apnea, difficulty breathing, and snoring, because their nasal passage and nostril are flat which are narrow for airflow.
How to fix a wide nose with rhinoplasty?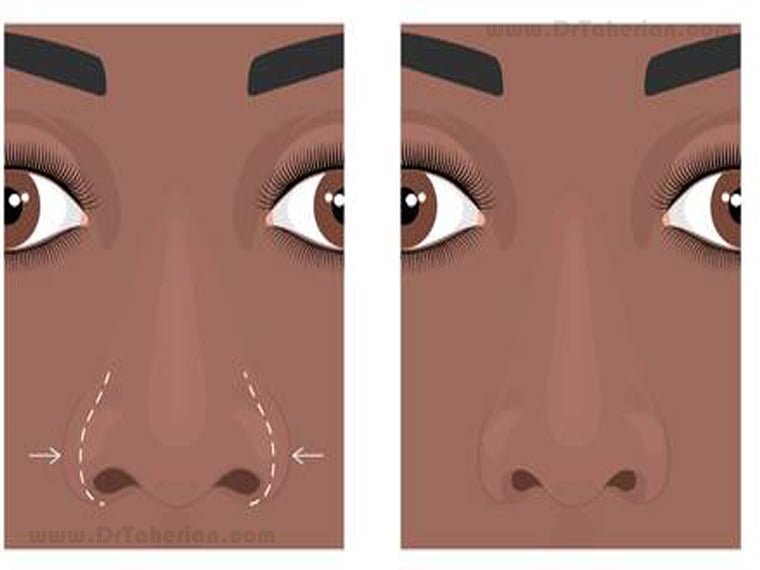 During the nose job, the bony nasal pyramid will be restructured. The nasal pyramid which is formed by the nasal bone is placed at the top of the nose. The surgeon breaks the pyramid structure and makes it thinner. Usually, a nose job for the wide nose is conducted by osteotomy to narrow the nasal bridge. Generally, there are two types of osteotomies, medial and lateral. Medical osteotomies include the small breaks in the middle portion of the top of the nose but lateral osteotomies address the longer and outer parts of the nasal bone. During the osteotomy, when surgeon break the nasal bone keep the small piece together to make a narrow nasal structure. In case of a severely wide nose, rhinoplasty will be applied by conducting two types of osteotomies.
Nose job for broad nasal tip
Some patient's nose is also wide at the tip and it needs to improve during the rhinoplasty. A wide bulbous or nasal tip can be correct successfully with a nose job. There are different techniques can be applied to correct a broad nasal tip. The nasal cartilage that forms a bulbous nose can be narrow and shaped. Cartilage can be gathered from behind the ear and nasal septum refine a narrow nasal tip.
Recovery after nose job for wide nose
The recovery period is a very important stage. Usually, the cast will be removed a few days after the surgery but the healing time can last up to eight weeks' post-op the surgery. You should follow all the recommended guidelines and attend all the check-up appointments. During the recovery time, you should avoid heavy exercise and try to keep your nose ahead especially while sleeping.
Risks and complication associated with nose job for wide nose
According to statistics, rhinoplasty surgery is associated with some common risks and complications like any other surgery including:
Infection
Difficulty breathing
Bleeding
Numbness and hardness of the nasal tip
Anesthesia reactions
Swelling
Bruising
Blood vessels
Scarring
Nasal obstruction
Pain
Skin complications
What to do, if I am not happy with my results?
Sometimes patients are not happy with the result of their nose job and it is not according to their expectations. It may occur due to different reasons such as surgical error or unrealistic expectations. But don't worry because you can't see the final results of your surgery until one year and your nose yet is not shaped fully. If after one year still, you are unhappy with your nose job results you can try revision rhinoplasty or nose surgical nose reshaping.
Rhinoplasty is a complex surgery which can affect greatly on your appearance so it is very important that you find an expert and skillful surgeon who has many experiences in this field. Dr. Taherian has over 28 years of experience in this field and has done over 5000 successful rhinoplasty surgery.
For free consultation just contact us now.