The cosmetic surgery trend is not the same in all situations and even all the time. The new trend of cosmetic surgery will change depending on different items such as fashion and technology. Also, the demand for different types of cosmetic surgeries is increasing day by day.
Top cosmetic surgical and minimally-invasive procedures are:
Breast augmentation
Liposuction
Nose reshaping
Eyelid surgery
Tummy tuck
Today people are more interested to do surgical and non-invasive procedures together. For instance, many people prefer to do facelift as well as filler injection at the same time to achieve optimal results.
There is also a difference between cosmetic surgery and plastic surgery. The new trend of cosmetic surgery focuses on body enhancement but plastic surgery reconstructs body parts which are tolerated damage due to burns, disease or trauma.
Injectable procedures are more common because of lower cost, lower invasiveness, and low downtime as well as a lower barrier to entry and lower stigma. Lasers and skin resurfacing also are more advocated because they have immediately visible effects, quick and lunchtime procedures.
Breast augmentation
This surgery involves using breast implants or fat transfer to increase the size of your breast. Breast augmentation also called breast aug or boob job restore breast volume after pregnancy or weight loss in order to improve breast size asymmetry and achieve a more rounded breast shape.
Sometimes breast augmentation needs to be done by breast lifting at the same time or maybe in a separate surgery. When the breast is severely drooping, a breast lift will be applied to lift the breast.
The pros and cons of breast augmentation
Breast augmentation surgery is associated with some advantages and disadvantages the same as any other operation:
Pros:
Adjust the deducted size breast after pregnancy
Improve your appearance if your breasts are too small or one of them is smaller than the other one
Enhance your self-steam
Refine uneven breasts after breast surgery or any other conditions
Cons:
Infection
Breast pain
Implant leakage or rupture
Changes in nipple and breast sensation
Scar tissue that distorts the shape of the breast implant
Liposuction
It is a surgical procedure involve suction technique to remove fat from different parts of the body such as abdomen and waist, thighs, inner knee, cheeks, chin, neck, back, chest area, calves and ankles, hips and buttocks and upper arms.
Advantage and disadvantages of liposuction
Liposuction has many advantages including:
Fat removal
The surgery results can be durable and make you stimulate to avoid overeating and having a healthy lifestyle
It can be applied for different parts of the body
It can have a skin tightening effect
With liposuction operation, you don't have to do exercise, diet or other complicated slimming technique to reduce fat
There are also some risks with liposuction surgery such as:
Fluid accumulation
Infection
Numbness
Contour irregularities
Fat embolism
Lidocaine toxicity
Internal puncture
Kidney and heart problems
Nose reshaping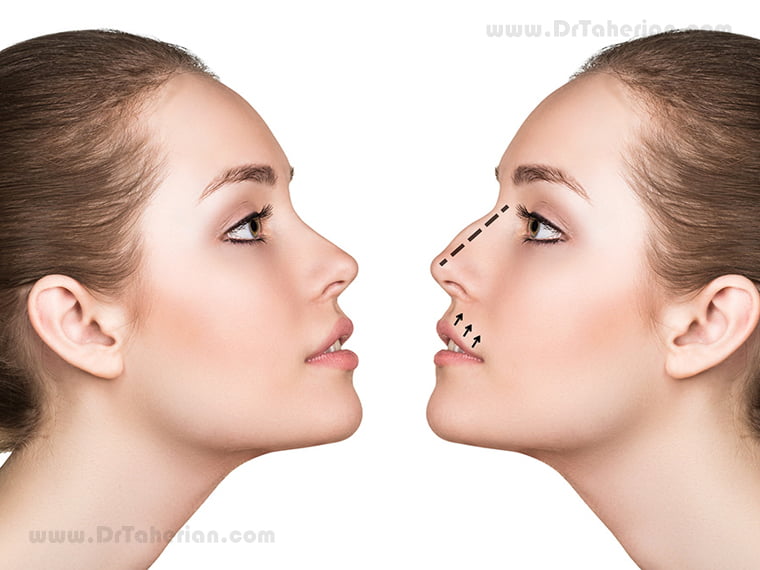 Nose surgery also called Rhinoplasty or nose job is a surgery that changes the nose appearance or improves its function. It is the most common type of plastic surgery procedures.
Rhinoplasty advantages and disadvantages
Nose job or rhinoplasty has great advantages for rhinoplasty candidate such as:
Increase self-confidence
Improve breathing
Restore facial symmetry
Improve sleep apnea
Modify sinus problems
Correct birth defects
Remove nasal bump
Fix any deformity
There are also some disadvantages with nose surgery including:
Infection. The symptoms of infection post-op rhinoplasty include fever, redness, skin warmth and drainage, increasing pain and swelling.
Anesthesia reaction
Skin contour abnormalities and swelling
Numbness
A hole in the septum (septal perforation)
Nose asymmetry
Temporary numbness in the nose
Unsatisfactory nasal shape
Eyelid surgery
Blepharoplasty also called eyelid surgery is a type of surgery that improves droopy eyelids by removing excess skin, fat, and muscles. In some cases, when the droopy eyelids are corrected, it also can modify your vision by removing the obstructed field of view. Eyelid surgery can be applied on upper lids, lower lids or both.
Pros and cons of eyelid surgery
Eyelid surgery provides you some advantages such as:
Results are more natural-looking than ever
Remove the puffiness around the eyes
Surgery scars are unnoticeable because they get hidden in the eyelid creases
Improve vision problems
Recovery time is relatively easy
Possible risks of blepharoplasty include:
Noticeable scarring
Infection and bleeding
Injury to eye muscles
Temporarily blurred vision or in rare condition loss of eyesight
Skin discoloration
Dry, irritated eyes
Tummy tuck
The procedure of this new trend of cosmetic surgery also called abdominoplasty that includes removing excess fat and skin and also tightening muscles in the abdominal wall in order to make a smoother and firmer abdominal.
Tommy tuck profits and risks
There are some medical benefits that you can gain after the surgery such as:
Decrease of stress urinary incontinence
Ventral hernia correction
Improved abdominal tone and better posture
There are also some risks with tummy tuck including:
Poor wound healing
Tissue damage or death
Fluid accumulation beneath the skin
Change in skin sensation
Unexpected scarring