Eyelid surgery or Blepharoplasty involve a recovery times like all surgery. Having information about what happen after eyelid surgery is sometimes as important as knowing about what happen during the surgery procedure. The following article explain about recovery period from eyelid surgery. More addition you can learn how long the recovery process may last and how to care for yourself during the recovery time.
What to expect after eyelid surgery?
Eyelid surgery is an outpatient treatment in the clinic or an overnight stay in a hospital. The decision for surgery takes by surgeon according to patient's special conditions. A hospital stay may be necessary for some patients while for the others may not be needed. The best place for recovery is determined according to sergeant and patient's preferences.
During the few couple days of recovery, expecting the redness and swelling around the stitches areas is unavoidable. The eyes may tear extremely. Any dryness around the eye can be remove by ointment which the doctor provided. But there is a temporary blurring of vision due to using this ointment. Generally, temporary blurred vision is a common side effects of eyelid surgery. During the recovery time, eyes are more sensitive to lights.
How long is the recovery period?
Recovery period may take long time and seems disappointing especially during the first stages when face is completely swelling and bruising. But after some weeks most patients notice positive changes in their appearance. After eyelid surgery your eyes be more open and you will have younger appearance, by these positive changes you will find that why you did this surgery.
Care after eyelid surgery
First two days
After upper and lower eyelid surgery, you will feel much pain and eyelids typically feel tight, accompanying pain will be released by analgesics. During first two days you need to use ointment. The swelling around the eyes can be reduce by using cold compresses. For protecting eyes from drying out you should use eye drops.
First week
During first week after eyelid surgery, patient should avoid to do activity that may cusses drying up eyes. These activities are including:
Reading
Watching TV
Wearing contact
Working with computer, mobile, tablet and etc.
Swelling and bruising around eyes can be reduce by keeping the head raised during the first few days of recovery period. Your surgeon will remove your eyelid stitches between 2-7 days after the surgery procedure. After 10 days the patient can resume the normal daily activity.
First three weeks
Using of dark sunglasses during first couple of weeks following the surgery is advisable in order to protect eyes from the sunlight and wind. The patients may feel their eyes get tired very soon for the first several weeks, so frequent blink is recommended.
Throughout the first 3-4 weeks after eyelid surgery, should avoid to do any activity that increase blood flow to the eyes, these activities are as follow:
Bending
lifting heavy things
Crying
You can inform by your doctor that when you can resume exercise activity.
The common eyelids changes within first month after Blepharoplasty surgery
Swelling around the eyes will reduce monotonically
The skin around the eyelids is still rough
Growing small bumps like boils with a white head under the skin
Feeling tightness in eyelids
Being senseless
Feeling tingling
Sensing the eyelid stitch
Having blurred vision
Feeling inequality in eyelids
Developing dry eyes
If you have any other questions about the recovery procedure as well as assuring about symptoms removal, you should contact your doctors.
If you want to know what you can expect during your recovery period, ask your surgeon the following questions:
Where will I be taken after my surgery is complete?
What medication will I be given or prescribed after surgery?
Will I have dressings/bandages after surgery?
When will they be removed?
Are stitched removed? When?
When can I resume normal activity and exercise?
When do I return for follow-up care?
How to sleep after blepharoplasty surgery
Sleeping after eyelid surgery can be difficult. During couples of days after surgery procedures you should try to keep your head elevated even while sleeping. You can use two or three pillows or purchase specials foam from pharmacy to keep your head raise. Wearing eye mask while you are sleeping is recommended.
Attending in public places
Usually, most patients can attend in public places after two weeks from eyelid surgery. But, for some patients who had difficult surgery and slow recovery procedure or generally are more sensitive about their appearance, it may occur later.
How long will it take my face looks like scary?
It will take around 3-4 days but it depends to your definition of this issue.
When will I see the final result of the surgery?
Generally, it can take up to 4-6 months but sometimes it may last one year. You should accept your appearance, look at it as a new experience and don't have stress during this time.
Scars
When swelling and bruising around the eyes are removed, scars will be more visible. All scars will heal through the following stages:
Initially stitches area will be red and thick. For some patient it may last until forth weeks and scars area may appears a bit shine.
It's possible some boils with a white head grow around the cut line that mostly will be remove without any treatment
After upper eyelid surgery some bumps may create close to the cut line, it is a normal condition and will heal after some months.
Although small bumps, that are not removed, are amendable but its better wait until they absorb by themselves.
Same as all scars, you can see the day by day improvement. In fact, your body keep continue the recovery procedure until all scars get improve.
After some weeks if you feel dry skin on your eyelids, you may need to use ointment without any prescription. We recommend to use Vitamin E on this condition.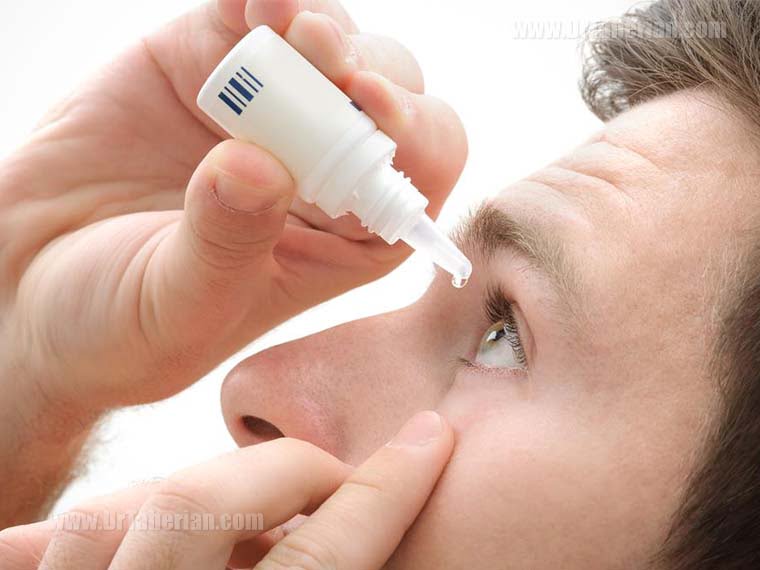 As well as the healing of visible scars, the recovery procedure of internal invisible scars in the lower layer such as septum, tendons and muscles is also time consuming. Most often, eyelid scars after blepharoplasty surgery contain more than one layer. Three to four layer of the internal eyelids are healing along with the visible scars but the speed recovery is less.
As long as the internal scars are improving, your eyelids are tight and look like elastic shape and even they may don't open completely. The layer that become improve much sooner can cover the eyelid's wrinkle end of the cut line.