Chin augmentation is the right option for people who think their chin is not symmetric with other facial structures. This surgery is popular among men and women that include chin enlargement surgery through facial implant or chin reduction for people who don't like their chin to appear prominent in profile.
In this surgery, implant add to the chin to proportion facial structures. A weak chin causes neck appears fleshy and nose look bigger than a normal one. Chin enlargement through implant causes facial coordinate and harmony.
Who is good candidate for chin augmentation?
Chin augmentation surgery has many profits and is appropriate for people who have:
Recessed chin
Squared or pointed chin
Prominent nose
Fleshy neck
As mentioned before, chin augmentation surgery causes jaw look bigger and make coordinate with a big nose. Usually chin surgery is used in conjunction with nose surgery. You also can do lip augmentation and cheek implant for overall facial balance.
The candidate shouldn't:
Be sick and ill
Have unrealistic expectation of surgery result
Have taken Accutane medication during last 6 months before the surgery (medication that can effect bone growth and lead to keloid scarring).
Have heart disease or blood pressure
Take anticoagulants medication
Different types of chin augmentation
Chin augmentation procedure is done through three ways: placing implant, injection and reshaping the bone to achieve desirable results. This surgery usually is performed under local or general anesthesia. Doctor usually cut inside the mouth or under the chin.
Implants
This procedure is usually recommended for patients with minor or moderate microgenia (small chin). Mostly cartilage is used to make implant but from 2003 allogenic materials have been used for this procedure.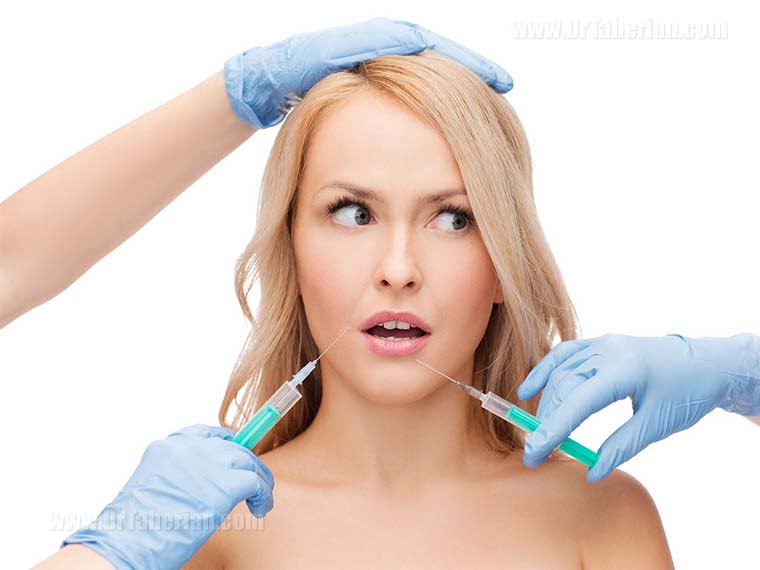 Injection
This option is rarely applied. Acid hyaluronic and hydroxyapatite are used in this method. Although the effect of injection is temporary and may last from a few weeks to a few months.
Surgery
Chin surgery also called genioplasty usually is done on patients who have very small chin and are not right for implant. In this procedure, surgeon remove a part of the bone and then move the bone forward and then hold it in place by special metals and screws.
Chin reduction surgery is very similar to chin enlargement but in this surgery the bone is moved backward.
Pros of chin augmentation
Make facial asymmetry: the major benefit of chin augmentation is providing facial symmetry and coordinate. Also this surgery can make a beautiful profile by chin enlargement. Chin surgery can be done along with nose surgery to make overall balance and if patient think has a big nose, it can be done on its own. In some cases, the opposite of chin augmentation may be required to achieve facial symmetry. If your nose looks very small, it can be causes of your big and prominent chin that in this situation your doctor may suggest you chin reduction. This surgery usually includes cutting and removing parts of the chin bone.
Chin augmentation is very simple and easy: another advantages of chin augmentation is that it is more simple and easy compared to other cosmetic surgery such as nose surgery. Chin augmentation is usually done on an outpatients using local or general anesthesia. This whole procedure takes less than 2 hours.
Implants can be customizable: Chin augmentation is available in different shape and size and surgeon help you to choose the implant that is appropriate for your face and provide you best results. Since most implants are made of silicone but another options are also available if patient don't like the appearance or feel of silicone.
Cons of chin augmentation
Recovery time: one of the disadvantages of chin augmentation is that patient needs to time recovery from it. After the surgery you may have pain, swelling and bruising around your chin. Although sometimes chin dumbness is common among patients after the surgery. Usually patients need to stay at home one weeks after the surgery and don't go to the work as well as avoiding chewing gum and heavy activities. However worst of swelling and bruising will remove after few days but the final results may not be visible completely after several months.
The implant may not be sufficient: Although many patients choose chin augmentation instead of other surgeries such as nose surgery but for some other patients just chin implant is not sufficient and can't provide them desirable appearance. In this condition, it is recommended to patient to do nose surgery or other cosmetic surgery such as facelift along with chin augmentation to reduce the signs of aging. More addition, every person can't be good candidate to chin augmentation because patient should have very good health for this surgery.
Risks
Chinaugmentation is associated with very few risks that may occur for few patients. Followings are some risks of chin augmentation:
Chin infection: Usually it can be prevented by taking medication but in some cases body won't accept implant so it should be taken out of the body.
Implant movement: By the time, gravity may push implant down and place it under the jaw line. Generally, chin augmentation has bearable pain for most patients and they don't have any side effects after chin augmentation.
Where is the incision marks of chin augmentation surgery?
In the chin augmentation, surgeon make a tin incision parallel with chin line. The incision scares of this cut has usually few inches' length. Some surgeon place implant from inside the mouth to avoid any scar on the chin. Surgery procedure and incision scar location is different depending on doctor's preference.
Is chin augmentation permanent?
Facial implant is solid devices made of biocompatible material and all follow one goal that is emanating parts of the face. Facial implant made not of substance such as fat, sugar or protein opposite of chin augmentation. So they won't be break down and will be coordinate with body over the time. Chin augmentation can be a permanent solution to a weak chin, dissymmetric facial profile and old or new injury to the chin.
Healing procedure
Most patient need to take leave from work after the chin augmentation and then back to their work. They can also resume their daily activities within seven days of the surgery. The pain of surgery is minimal and can be control by pain killers and cold compresses.
You should sleep face-up 2 weeks after the surgery as your head is elevated to help heal swelling and incisions. Your doctor may also ask you to eat watery foods two days after the surgery and don't resume your heavy activity within three weeks after the surgery. You should consider your doctor recommendations to heal faster and get better results. After one months you can find an approximate result of your surgery and after 3 months as the swelling is subsided you can see the final results of chin augmentation on your face.