What is nosebleed?
One of the most prevalent type of bleedings is nosebleed which happens as a result of intranasal blood vessel rupture. Nosebleed can be scary or exciting and stagy. Fortunately, most of nose bleedings are not serious and can be treated easily.
Nosebleed is divided into two types based on the area of the nose it is grounded:
The first type is caused by anterior nasal blood vessel rupture. Most of nose bleedings fall under this category and can be treated easily.
The second type happens in posterior area of the nose which is more common within elderlies and must be taken serious. Fortunately, this case is less common than the other type and major nose bleedings are caused by anterior nasal blood vessel rupture.

What are the causes of nosebleed?
High blood pressure:
High blood pressure is known as one of the reasons for nosebleed in elderlies. As many researchers argue, high blood pressure is not the primary reason of nose bleeding in these cases but is more likely to influence the intensity and duration of bleeding. This type of nose bleeding which occurs concomitant with high blood pressure is categorized under the second type of bleeding, posterior nosebleed. In this case, along with nosebleed, the patient feels penetration of dense blood into his/her throat which creates gag reflexes. If nose bleeds longer than normal, visiting a doctor is necessary. The physician often treats based on the questions asked from the patient and respective examinations.
Nasal mucosal atrophy (empty nose syndrome):
Another cause of nosebleed is intranasal skin atrophy which is more common during the winter. In this case, patient manipulates his/her nose because of nasal mucosal atrophy and cuts the intranasal capillaries. It is recommended to use lubricating pomades like "AD" to avoid this problem during the winter and after nasal atrophy is commenced.
Impacts:
Impacts and accidents are another reason for nosebleeds which might result in nasal bone fragments. In this case, visiting a doctor is required.
How to stop nosebleed?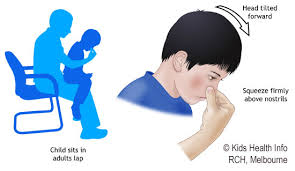 If nosebleed is of the first type origin, to stop the bleeding one must only hold the head straight forward and press the two sides of the nostrils with thumb and index finger. Holding the head up to stop the nosebleed will only result in swallowing the blood and has no effects on stopping the bleeding.